The Giver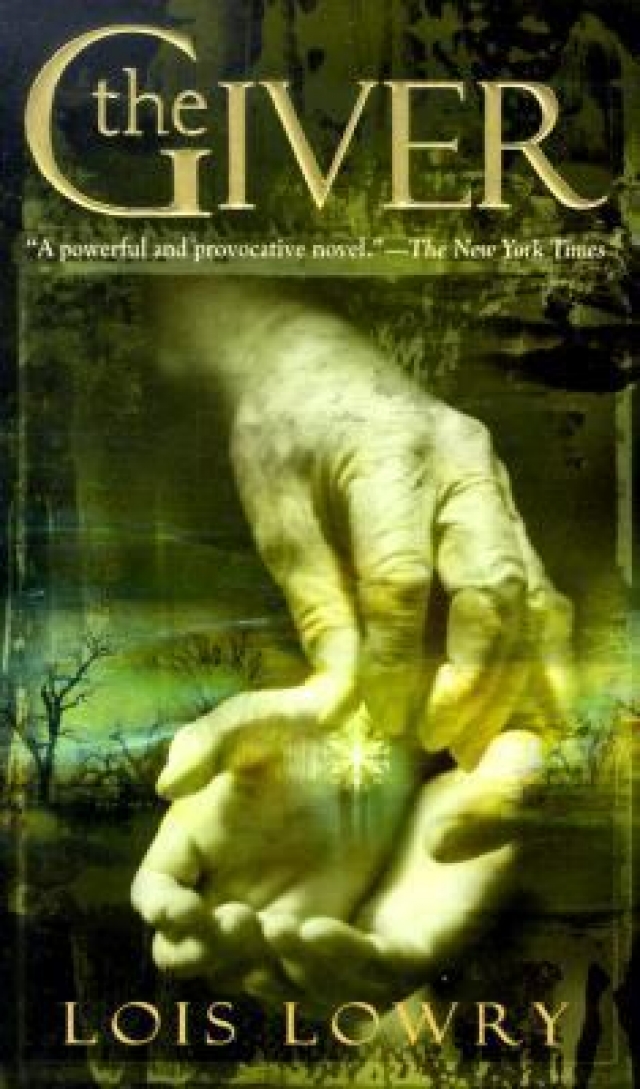 In Jonas' perfect world, there is no need to worry. No war, fear, pain. Everything is decided for you. No need to worry about what to do with your life. No need to worry about who your going to be.
Once one turn twelve, everyone is given a role to play. A role in the Community. When Jonas turns twelve, he is given the role of the Receiver. The Receiver holds memories of the past life. All the war, fear and pain. A life full of color and choices. As Jonas receives these memories of the life before his, he starts to question life and the choices that have been taken away from him.
A heart-wrenching story told in 180 pages, Lois Lowry will send you on a journey that will leave you ending with: "WHAT THE HECKIE?!"
And that is indeed how the book ended for me.
Okay so this book starts off very calm, very peaceful but it wasn't boring. It starts picking up after Jonas gets selected as the Receiver. It's also pretty level then UNTIL THE GIVER SAYS TO JUST GO AND LEAVE?! AND THEN JONAS IS LIKE: NO COME WITH ME GIVER BUT THE GIVER WON'T BECAUSE HE WANTS TO BE WITH HIS DAUGHTER.
OHooohHo that isn't the end either. His daughter Rosemary WAS ALSO GOING TO BE A RECEIVER AND THEN SHE "KILLED HERSELF" CAUSE SHE COULDN'T TAKE THE PAIN.
AND THEN WHEN HE REVEALS THAT HE WAS HER FATHER YOUR LIKE WHAAATTTTTT?!!!?!?
Now that's all out, let's actual start reviewing. As you can see, I was really really really surprised. How could this simple book about a simple life turn into this? It seemed so right and normal.
I'm going to compare this to Divergent. When Tris is in her initiating stages and she's getting all the tattoos, it seems so normal, like everyday routine. You enjoy this routine. You want it to stay like this and be happy and okay. Then the Erudite make an army of Dauntless and then your simple, happy routine goes spiraling down. It turns so complicated and you miss the "old days". (I seriously missed the "old days" at Insurgent. Insurgent makes me want to scream)
It's basically the same with the Giver. Except those "old days" didn't last that long. Seriously. A year goes by in like a matter of 5 pages.
Writing style was pretty cool to me. The author didn't throw how the society works directly in your face. It is kind of confusing at first about how this future world works but you eventually get it.
Other people say they didn't get what was going on, but I understood everything. Sure there are those things that never really got explained like the hair ribbons but who cares? They're such a small part of the book why would anyone be complaining about them?
The world Jonas lives in itself is kind of stupid if you think about it. There is no way some government or whoever runs the Community just gets rid of color. HOW CAN YOU GET RID OF COLOR? I mean, unless they damage your eyes at birth or something. The people in this book are way too accepting of everything. On the other hand, it's a book. And anything can happen in books.
Oh yeah and the ending. I think it was kind of rushed through. In fact, this whole book was rush. I would read for what seemed like 10 minutes and then when I look at the book, whoa. I'm already halfway done? I wish it was longer…
4.5/5