Code by Kathy Reichs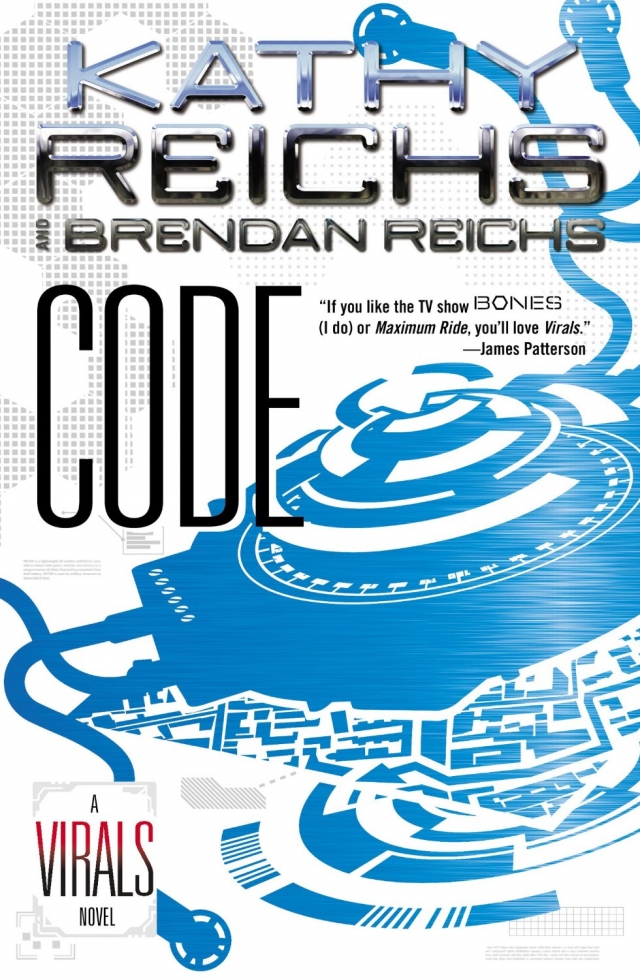 The Virals are put to the ultimate test when they find a geocache containing an ornate puzzle box. Shelton decodes the cipher inside, only to find more tantalizing clues left by "The Gamemaster". A second, greater geocache is within reach-if the Virals are up to the challenge.
But the hunt takes a dark turn when Tory locates the second box. Inside is a fake bomb, along with a sinister proposal from The Gamemaster. Now the real game has begun: Another bomb is out there-a real one-and the clock is ticking. (From jacket cover)
In my opinion, Code is the best book out of the Virals series. Lot's of plot twists, action and character development, mostly from Ben.
As my friend calls it, the "dog people" is searching for this bomb and is given a countdown. Which by the way, is at least a little more realistic than finding pirate treasure. (*cough cough* The second book Seizure *cough cough*)
The beginning was a bit slow for me but it builds up to the most craziest adventure. It starts getting interesting after the Virals find the dead man in the coffin, who has recently been killed. Now we know that this thing is getting serious which really pumps me up. (Yes death. Death to all and make them suffeerrrrr. Ehem. Just kidding.)
<rant>Then we find out that BEN FREAKING BLUE (whatever his last name is) WAS PART OF THIS THE WHOLE TIME AND I JUST GAHAHHHHHH!!!!!!?!?!!?!?!! AND JUST BECAUSE HE WANTED TORY TO NOTICE HIM?! OKAY I GET HE DIDN'T MEAN FOR IT TO ACTUALLY BE DEATHY BUT WHY COULDN'T HE JUST TELL HER IT WOULD BE SO MUCH EASIER AND SAFER AND UNDEATHY.
I'M NO LOVE EXPERT BUT THIS CERTAINLY ISN'T THE WAY TO GET A GIRL TO NOTICE YOU. I WOULD HAVE PROBABLY JUST BARREL ROLLED ON TOP OF YOU AND HOPE YOU FEEL REALLY SORRY.</rant>
Ehehe…so uh…how's your day? (Okay this review is starting to get really random)
Whitney has definitely changed that's for sure. I think she needed a slap in the face to realize what Tory is going through. She means good by the dress thing (whatever it is) but I don't remember her really asking Tory? I don't think she's a bad person but just a little thoughtless.
Yeah. This book was great. Heh.
4.5/5 (Not a 5 because Ben Blue but it's really a 5 to be honest xD)